CHDS:  A Unique Community of Family & Friends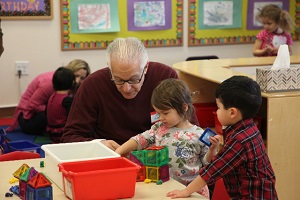 Children's Happy Day School is a community of parents, teachers and children learning and growing together.  We work alongside parents as they support their child's growth and development during the preschool years. Collaborating with parents and providing teachers with the tools and support they need to work with children are essential components of the Children's Happy Day School community. Ongoing, consistent communication is the cornerstone of this collaboration.
Parents are a child's  first teacher in life and at Children's Happy Day School we work with parents,  providing information about the different developmental stages of preschool age children and the age appropriate ways we can scaffold their learning. We offer parents a variety of opportunities to gather and learn from each other and from the teachers. Our Parent Open House in September is an evening when parents gather in their child's classroom to learn more about the program and curriculum.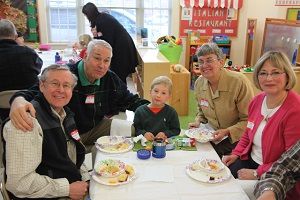 Parent Talk Night with Dr. Paula Rauch (Director/Founder  of PACT Program at MGH) gives parents an opportunity to listen as Dr. Rauch talks about typically developing children and then answers parents' questions about their own challenges and concerns. During this evening, parents experience that they are not alone in the challenges they face and gain some practical strategies for working with their children. Twice a year we have formal Parent Teacher Conferences. These conferences give parents a chance to meet with the classroom teachers and discuss what is happening in the classroom and at home and review the evaluation and assessment forms. We support and encourage parents to seek services for their child when needed and can connect parents to speech, language and occupational therapists. We invite parents to participate in some professional development at school, offering workshops on topics such as occupational therapy or behavior and speech and language development.
Gathering as a community and inviting parents and extended family to participate in the program enhances the overall experience for children.  Our annual Halloween Potluck Celebration in October is a night where children sing songs for their families and can come to school in their Halloween costumes.  In November, children invite their "grand parents or grand friends" for a delicious lunch prepared by the children.  This is our annual Grand Friends Lunch.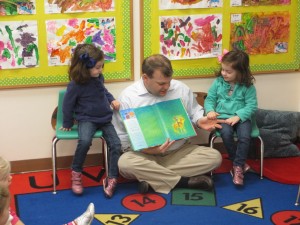 During December, we celebrate our children and their family traditions during "Family Sharing Month."  Parents and extended family share cultural or holiday traditions or simply read stories or sings songs with their child's class.  We continue to celebrate the diversity of our families with our Diwali and Chinese New Year Celebrations. In March, the school is transformed into and art gallery for our annual Art Gallery Night.  Families are invited for dinner and a showing of the children's art work. We finish the year with our "End of the Year" Celebration, where children perform a short song or play for their families and our graduating students receive their diplomas.
After CHDS: Next Step
After children leave Children's Happy Day School, they attend a variety of public and private schools. Children enroll in the Boston, Brookline, Dedham, Newton, and Needham Public Schools.   We also have children enrolled at Brimmer and May, Milton Academy, South Field, Holy Name, Fessenden, Dedham Country Day, Mount Alvernia, Windsor, The British School, and the Sage School.
A Long Lasting Relationship
Long after families leave Children's Happy Day School, they remain connected to the school and the community. Children come back to complete community service hours. They work as counselors in training in our summer camp program. Parents stay connected too, helping us with community projects or volunteering at our Open Houses. Children's Happy Day School is committed to our alumni families as well, available for advice or support as children continue to grow and learn beyond their early childhood years.